Our Omani Frankincense Distillery
Enfleurage Middle East LLC Frankincense Distillery
About our Frankincense Distillery
Since 2011, Enfleurage Middle East, LLC has been the sister company to Enfleurage New York, and is wholly owned and operated by us. We do not contract our work out—we do everything in-house. We distill the essential oils, make hydrosol for local clients, process our biomass for Boswellic acids, do any macerations, and make and bottle all our products ourselves. We also make frankincense ice cream.
We keep an alert and careful eye to our quality, well aware that we are privileged and honored to work with the finest frankincense in the world, and to do it in the Sultanate of Oman, one of the delightful places on earth.
Our facility is located in the capitol, Muscat, and we welcome visitors.
Our process is a slow artisanal hydro-distillation in copper, using hand hammered traditional European alembic pot stills.
We distill year-round, even in the summer, and produce essential oil from both black and white resins. Our Frankincense Essential oil is guaranteed to be 100% pure, whole and natural and free from all additives.

All our resin comes from Dhofar, the most southern governate of Oman. Dhofar is a unique micro-climate in that it receives the annual Indian summer monsoon (khareef) and therefore, every year, as we swelter in Muscat, Salalah is relatively cool and misty, green and rainy. The costal mountains provide quite a barrier, and the clouds and mist are thus confined to the small areas between the mountains and the sea. Frankincense trees grow in both wet and dry areas and this is the difference between black and white resin. The trees of the Hojar, and inland areas untouched by the khareef, tend to give whiter resin, while the coastal areas will offer us a sticky, black spicy resin. Neither is considered "better"; they are just different and it's a question of personal taste.
We make a small amount of frankincense and myrrh co-distillation. We don't do myrrh alone.
Our new Boswellic acid range is derived from our own Omani resin, extracted in both Muscat and our new production facility in California. At the moment we can offer both the powder and a concentrate in FCO. The concentrate is generally easier and faster if using in a veg oil and the powder can be used in any way.
We welcome visitors with appointments at Enfleurage Middle East. We are located in Shatti al Qurum and have a few items for sale at the distillery. We are only set up for cash and carry. We can also send throughout Oman and to Dubai via bus service. Any orders for other GCC countries or beyond will have to go by air and so this is better organized from the US.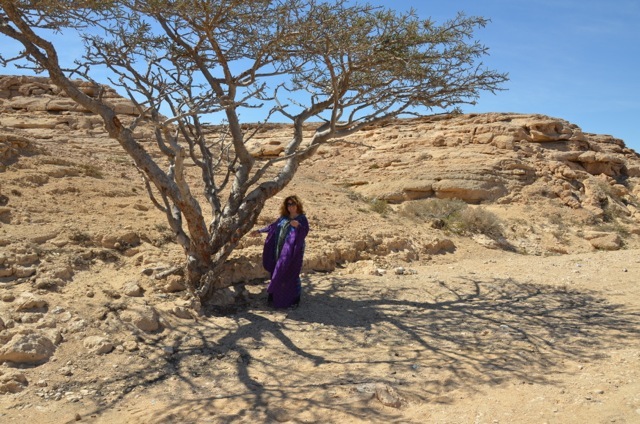 Enfleurage Middle East and Enfleurage New York are not affiliated or associated in any way with any other essential oil company. We maintain the integrity and secrecy of our frankincense ice cream recipe, along with our other Omani ice cream flavors, and have not shared these. Any recipes found attributed to us on the internet are patently false.

Photographs by Trygve Harris, Michelle Gagnon and Thomas Carson